Here and there: Dominic Xavier
Published January 30, 2016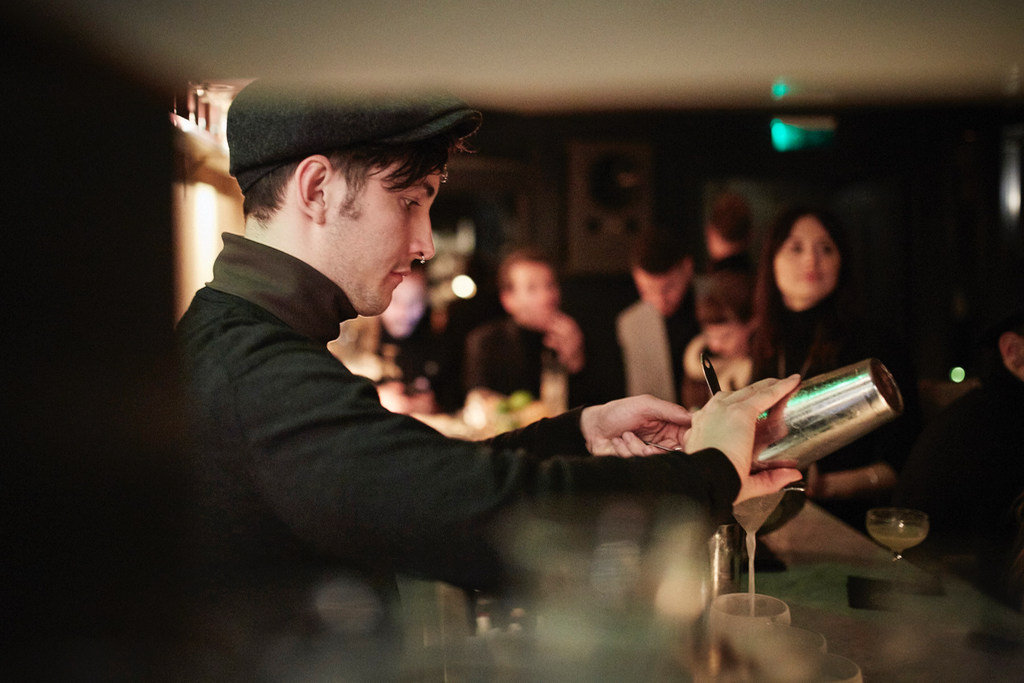 Photo credit: Sebastian Heck Photography
Dominic Xavier hails from Australia, but love and a nagging wanderlust, like so many of the best, brought him to the northern hemisphere and the curious town of Berlin. We've been lucky enough to cross paths a few times and we must say he is without a doubt one of the most hospitable and hard working bartenders in the game. It is our honor to call him a club member.
Ahead of our Winter Gathering in Karlsruhe on February 6th, where Dominic will once again be behind the stick, we exchanged a few hand written letters with Mr. Xavier and edited them down to present this exchange. Please, read and enjoy.
—
It's a pleasure to work with you again at another club gathering. By my count this will be number three, I believe. We've done Hamburg and London before. Can you tell me a bit about how you came to know Turtleneck Club and what your initial impressions were?
I heard about the idea from Coco, the Hendrick's Gin ambassador for Germany. He pitched the idea of heading up to Hamburg with him last February. I thought the the Turtleneck Club itself sounded a bit curious, which I like. Hanging out with Scotty Schuder (of Dirty Dick fame) and company was a laugh. What a great night it was!
You're from Australia, having worked under the tutelage of Martin Lange at Cobbler. What are the fundamental differences of working in Australia at a craft cocktail bar and what you've experienced in this hemisphere? Are there any really?
Australia undoubtably has one of the best cocktail scenes in the world at the moment. There are a lot of really passionate bartenders pushing each other to a really high standard, relative to the industry and customer's perceptions of drink standards as a whole. The biggest difference I've noticed is accessibility to amazing produce. In Australia we have access to such a diversity of offerings, whereas here in Europe one is pushed a little harder to find such exotic produce.
I was speaking with our mutual friend, Elliot Pascoe, about punch culture in Australia. What is it about Australia that makes punch popular?
I don't think it's so much about punch itself being popular, rather than the fact that Australians are quite fickle when it comes to gastronomy. If something is new and trending, they'll dive right in. So with regards to punch, I'd comfortably say Hendrick's Gin and more in particular, the magnifique Sébastian Derbomez (who is now taking care of NY and the east coast), had a great deal to do with the fact that more and more bars are regularly serving up the casual 'Bowl o' Booze'..
Can you share a favorite punch recipe that our friends and club members might make at home, and walk us through how to prepare it? Also any serving tricks if we don't have a punch bowl?
This a sure-fire winner, for any occasion. The one thing I love about punches is that you can essentially use whatever fresh fruits you have around the house. As long as you make sure there's enough booze in there to keep you in check, you can't go wrong. Find a large enough vessel, if you don't have a bowl – a 2L milk container, for instance. Add all ingredients et voila!
If you prefer it sweeter, add more honey. If you prefer it boozier, get another bottle of gin. 🙂 If you are like me, a stereotypical hipster, use a natural Rosé.
Duncan's '40-20′
200ml Hendricks Gin
40ml Aperol
40ml Rosé wine
60ml Fresh Mandarin Juice
60ml Lemon Juice
60ml Sparkling Water
45ml Honey Water
Orange Bitters (Gary Regan's if you can find them)
What do you consider to be the best bar in the world and why?
MINI BAR! It never really closes, it's located directly under my apartment and once the time in the morning has come when the bartenders can no longer associate the difference between their beer and yours, let the whisk(e)y flow! It's a lovely, cozy, home-like environment. The best bar in the world is the one where you feel at home, so.. Oh, and I should mention the Commodore Room, naturally.
You're currently at the Michelberger Hotel in Berlin, but you are already planning on opening up your own spot. Tell us a bit about that.
My first time living in Berlin was 4 years ago. I remember returning to Australia and thinking, there's not many places that serve great drinks without being stuffy "cocktail" bars. There's plenty of kneipe-type bars, which are always fun and lively, yet sometimes you just want a boozy, well made cocktail. Right?! So that's the aim with whatever comes next, whenever that is.
On a scale of 1 to 10, how turtleneck do you think it will be? Anything over a 7.5 will suffice for our purposes.
Well, the Turtleneck Club is built on vinyl, good booze and interesting characters, right? A stab in the dark would be a 9.5. Report Card to come.
How do you feel about a strong musk? Like when an old man walks past and you get a good ol' wallop? Obviously it's a great thing, but how great do you think it is? Super great?
I'm an advocate. Not one of those closet advocates though, I'm a genuine fan. There's a character who lives in my neighborhood who epitomises the "I'm not old, I'm aged" mindset. His name is Günther Krabbenhöft. Google him. He's somewhat of a celebrity, the real deal!
What's something that you think people could do everyday to be just a bit more hospitable to each other? Not in a bar, per se. Just in general, on the street or whatever.
Listening is always nice. A lot of people hear what each other are saying but very rarely do they actually listen. People can be quite interesting.
Do you consider CoCo Prochorowski to be a genius? Perhaps even an oracle of some kind? 
Can I leave a YouTube link to answer this one? If not, i'll leave it up to you to translate 😉
https://www.youtube.com/watch?v=B4c78PZRsHs
What do you love most about living in Berlin?
Very little restrictions. The complete opposite to living in Australia.  Most people are never in a hurry, unlike places like London and NYC. There's always time for a Späti beer or a coffee. Gotta love it.